Corporate Stays has officially opened doors to its 12th property in the Canadian west coast. Welcome to The Zephyr, a brand new collection of luxury apartments for rent in Vancouver. Most certainly, it's an exciting opportunity to take on a community of homes that set a new standard for urban and sustainable living.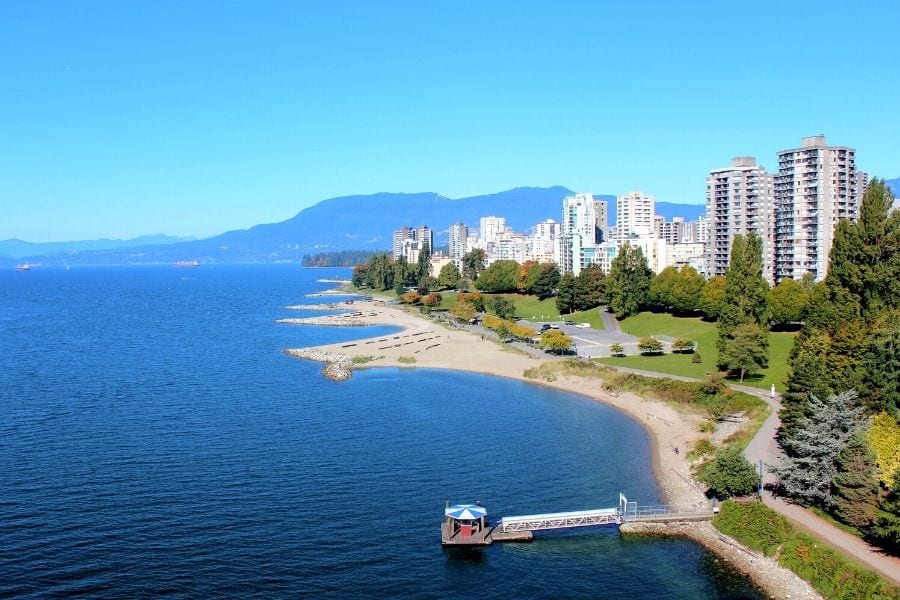 The Zephyr Location – West End
The Zephyr is conveniently located in Vancouver's spectacular West End, right by the ocean. The West End has historically been one of Canada's truly great walkable neighbourhoods. Perhaps owing to the fact that it's close to many notable attractions, like Stanley Park, English Bay and Coal Harbour. The Zephyr sits at the corner of Davie St. and Cardero St., surrounded by many points of interest.
Unit Types – Studio, 1 Bedroom and Two Bedroom Apartments At The Zephyr
Altogether, Corporate Stays acquired and furnished 22 new luxury apartments for rent in Vancouver at the Zephyr. Corporate Stays' apartment rental package includes a fully furnished apartment, supplied by our furniture and home decor sister company Casa Suarez. Utilities such as electricity, heating, air conditioning and high-speed Internet are included in the rate as well. The units also come with all the necessary appliances you need for a comfortable stay. For example a brand new fridge, stove, dishwasher, microwave and an in-suite laundry.
The Zephyr has studios, one bedroom and two bedroom furnished apartments for rent. They vary in size from 500 to 918 square feet. You're guaranteed a breathtaking view from all of the unit's private balconies. You may have a city, waterfront or mountain view – or better all three, that showcase one of Canada's most beautiful cities.
Other apartment features
Light Oak Flooring
Kohler bathroom fixtures
Matte black kitchen with contrasting white stone countertop and backsplash
Tile finishing for bathroom floors and wet walls
Pet-Friendly
Building Amenities
Undoubtedly, quality leisure time at The Zephyr is a given. For instance, you can enjoy sunshine rays and BBQ on the rooftop or exercise in the outdoor fitness area. In addition, Corporate Stays guests can also take advantage of The Zephyr Cycle Club. This in-building bike sharing program provides 20 custom designed electric bikes to resident members. The goal of the cycle club is to provide an electrified alternative to owning a car when living downtown. By the way, don't exclude your loved ones! The Zephyr has an outdoor children's area, but also luxury dog amenities. For example, there is a dog run along with a dog wash station present on site as well!
Other building features
Underground indoor parking
Outdoor Rooftop with BBQ
Library and study space
Two level fitness facility with outdoor area
Indoor/Outdoor amenity lounge with kitchen, TV area and lounge
Cycle Club bike share program
Secure bike parking
4 Elevators
The Zephyr Is The Perfect Home Away From Home
By choosing The Zephyr, guests are assured to have the perfect home away from home. These new furnished apartments for rent in Vancouver are truly the place to stay for a long term rental. Corporate Stays is proud to have added a vast array of apartments at The Zephyr to its Signature Collection apartments in Canada.
Book your stay at The Zephyr today!
Why Choose Corporate Stays?
Corporate Stays wants to ensure the highest quality stay for all its guests. When you book with us, it's not just about your accommodation, but also the entire experience. The buildings from our Signature Collection are carefully selected to guarantee the best city locations and amenities. We offer apartments for long term rental in Vancouver. Our team is here to help you choose the perfect furnished living solution that will suit your needs!