If you like to work remotely and visit exciting places, staying in Ottawa is the right choice! No matter how hard people work in Ottawa, they always have the right ways to relax, feel comfortable, and be happy.
This city has iconic buildings with a unique combination of styles. It is beautiful not only because of its architecture but also because of its parks and Canadian nature. French and English are spoken, but you can often hear other languages. Many people come to study, research, relocate for business, or are digital nomads who work while admiring different destinations.

To experience life like a local, it is always best to stay in the city center. However, hotels are costly. That's why the best option is- furnished suites in corporate accommodation.

Let's explore the prime locations that offer the best corporate housing.


Furnished suites in Westboro/Hintonburg

Westboro and Hintonburg are attractive neighborhoods between Island Park and the Ottawa River.

Between those two neighborhoods is 1140 Wellington, Corporate Stays signature collection apartment building with lavish executive suites.

Guests can enjoy locally owned shops, restaurants, hair salons, cafes, bakeries, and bars just a step away from the building. Inside they can relax on a private rooftop terrace, BBQ area, lounge area, party room, and fitness center.

Enjoy luxury accommodation and actively engage in the local lifestyle in 1140 Wellington.


Suites in downtown

Downtown Ottawa is always buzzing with activity. Explore museums and galleries, enjoy local restaurants and shops, then find bars and music. Visit nearby attractions- Parliament Hill, The ByWard Market, and the Rideau Centre.

Corporate Stay's short-term apartment rentals in The Met are just a short walk from Parliament Hill. Each apartment has all the modern amenities you'd expect at home. Guests enjoy other benefits, like a fitness center, movie theatre room, and a rooftop terrace with a BBQ.

This week we offer a special discount on a comfy studio in The Met. Take advantage of this week's discount, and save $390 for a monthly stay!



Suites in Golden Triangle
Dive into Ottawa's most exciting zone-  the Golden Triangle area! Enjoy the lively atmosphere of a prominent part of the city!

Whether you are in the mood for a walk by the Rideau Canal or a night out in a pub, everything will be very close to you!

169 Lisgar, an incredibly stylish apartment building, attracts its guests with convenience and trendiness. Luxury in-home experience and in-community experience at 169 Lisgar has been specifically designed to provide endless comfort and relaxation.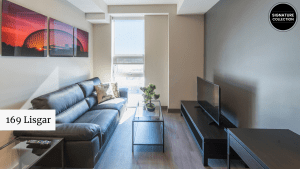 Settle into a new community with ease and explore the additional services that can make your stay in temporary housing in Ottawa more effortless.

For example, check out our housekeeping services. 
Whether it's a work adventure or a leisure trip, Corporate Stays will make your extended stay memorable!