Make your stay in Brossard better with exceptional luxury accommodation from Corporate Stays. Convenience and comfort await you in Lumeo, a 9-story signature collection apartment building.
Lumeo is conveniently located on the city's south shore, offering many things to discover and creating lifelong memories of your Brossard stay. One side of the building looks at a park, and the other at the lively Ambiance Street, so different guests love it. Next to it is the first Canadian lifestyle center- DIX30.
Spacious and contemporary furnished apartments in Lumeo have all the essentials!
Create tasty and healthy meals at home in a fully equipped kitchen.
High-quality furniture from Casa Suarez and calming neutral colors are carefully picked to create a serene feeling as soon as you step into your executive suite.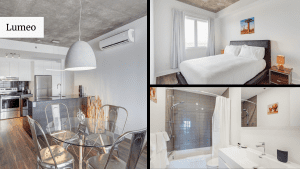 More than luxury accommodation
At Corporate Stays, we are committed to providing our guests not just corporate housing but the whole experience, helping them to enjoy their stay to the fullest and constantly feel relaxed. We are taking the home-away-from-home concept to new heights!
If you're going to be in Brossard for a few months or more, you will need different services daily. Therefore, we have prepared various services for you, for which you can rely on us, from housekeeping to car rental. Also, we can adapt each service to your wishes and needs. You can check them out here.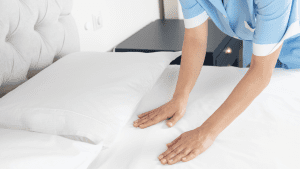 Enhanced experience of monthly furnished rentals
Our guests can always expect unique gifts from us, as our goal is an enhanced experience from booking to check-out. Also, we have significant discounts for travelers who stay for a month or more!
Here are some of the rewards we currently have.
We give away two days of Corporate Cars rental for a monthly stay in our corporate apartments! Live comfortably in a new city, and don't worry about transportation!
For all executive apartment rentals for three months and more, receive four nights at our unique, sustainable hotels by Embera Collection in Panama! Discover pristine beaches on Panama's breathtaking island, Saboga.
For all short-term rentals in Lumeo our guests receive a $50 free gift code for any purchase at Casa Suarez, modern and contemporary exotic wood furniture and home décor.
If you tend to gravitate toward a home-like experience and want to save big, join us today! If you have any questions about our services or the availability of our corporate rentals in Brossard, don't hesitate to contact us!