Hotels are not a good option if you need accommodation for your employees in Brossard for an extended period. Unlike in executive apartment rentals, life in a hotel does not correspond to everyday life. Employees spend part of the day at work and then come to the hotel, where they have no place to prepare meals, store food or wash clothes. It can be very annoying and disappointing for the employee.
If you need to book stays for an extended period, the costs can add up in hotels.
Instead, short-term rentals in corporate housing will save your money and give your employee a "home-like" experience in Brossard.
Consider these tips if you want to save your company even more money.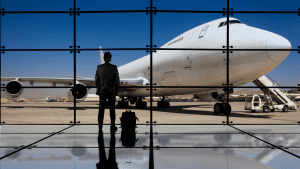 Choose the optimal location.
Book corporate apartments in a location that will be convenient for transportation and close to downtown or livelier parts of the city. In this way, you will save on commuting costs while providing your employee the opportunity to feel the community.
Some of the best parts of the city that provide an excellent balance between housing costs and proximity are located near the prominent commercial center called DIX30.  Lumeo, Corporate Stay's apartment building with luxury accommodations, is located a step away from the center.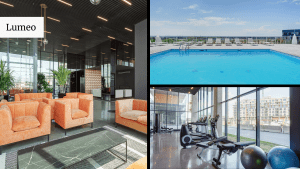 Look for a flash sale.
Sometimes it just takes a little more searching and persistence to find suitable short-term apartment rentals at a good price.
In Corporate Stays, with more than 800 properties globally, you can always find great deals to grab.
Now, for a monthly stay in Lumeo, you can get a discount of $450 on a two-bedroom apartment and $500 on a one-bedroom apartment!
Book now and save big!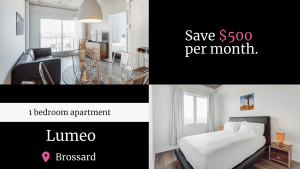 Choose executive apartment rentals with extra benefits.
A safe and comfortable place to stay will feel like home, but Corporate Stays can offer much more. Retaining good employees is essential, so creating a comprehensive, attractive offer beyond temporary housing can positively impact your relationship with the worker.
As the needs differ from employee to employee, we have decided to prepare various additional services with special packages that will save you a lot of money on extended stays! You can check them out here.
We also have a Passport program, which allows guests to spend 3-6 months between Canadian cities for a monthly flat rate! There are over 500 apartments across the country; therefore, there are many options to choose from. Click here for more information!