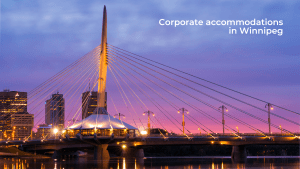 Forget about the hassle of trying to meet each employee's request regarding short-term rentals for relocations, projects, assignments, and business meetings. Forget about pricey hotels and learn about the current benefits of corporate accommodations in Winnipeg!
Corporate
accommodations

– a home-like experience

Finding executive apartment rentals that serve as an alternative to a home can be a challenge; that's why our executive suites offer greater flexibility and more amenities. We have ensured that all the apartments we offer meet the highest standards of every business traveler.

East Village, one of our signature collection apartment buildings, located in the heart of Winnipeg, offers a home-like experience for the business traveler with additional services like housekeeping, grocery delivery, WiFi, a fitness center, and 24-hour support.

This week we are offering a special discount on our comfy, furnished suites in Winnipeg:
$550 discount on a monthly stay in 1 bedroom apartment
$400 discount on a monthly stay in a studio apartment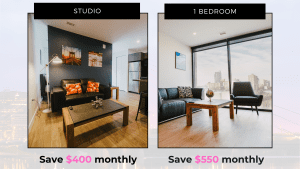 Extra advantages of corporate
accommodations
Skip overcrowded hotels, the high cost of more extended stays, and the unavailability of all the necessary amenities. Rent fully furnished apartments and save with Corporate Stays!
One of the reasons why corporate housing is a better choice than a hotel is the frequent additional benefits you can provide to your employees. We know that moving is stressful enough without employees worrying about where they will rest and recover. That's why we have prepared unique benefits for all business travelers in Winnipeg.
For all reservations for three months and more in Winnipeg during August and September, you receive four nights at Saboga Lodge, an eco-friendly hotel by Embera Collection situated on Saboga Island in Panama!
What better way to benefit your employees than to reward them with luxury accommodation on a beautiful island in Panama?
Also, for every booking in Winnipeg made in August for three months or more, we give a $500 CS credit to a Ukrainian family moving to Canada. A great cause deserves a great discount.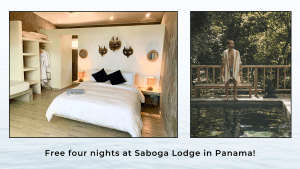 Guest services
In Corporate Stays, we specialize not only in providing corporate housing that meets every client's need, but we are already trying to provide as many services as possible for a better experience. Therefore, your employee will be able to enjoy the beauty of Winnipeg without a single worry. See a list of all available additional benefits and services that you can purchase from Corporate Stays.
With temporary housing in Winnipeg, your employees can stay in a fully functional and comfortable home with all they need while enjoying the city at the same time.
Take advantage of our special offers, valid until July 17!