Finding a place to call home has never been so easy. Take the stress of relocation off your shoulders. Corporate Stays offers you the comfiest executive suites in downtown Edmonton.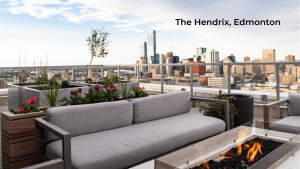 Finding your perfect executive suites
Undoubtedly, if you choose corporate housing, you get the most for your money. But when you select Corporate Stays, we ensure you get it all! We're dedicated to providing corporate accommodations tailored to every business traveler. Our hands-on support team assists every step of the way for clients' staying. We offer additional services that can make your stay even more effortless. You can check them out here. And, of course, there are always flash discounts!
This week, we have a special offer for you – a discount of $350 on a monthly stay in The Hendrix residential complex. The offer is for our one-bedroom apartments and is valid for each month of your visit!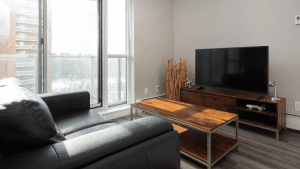 The Hendrix executive suites in Edmonton
Hendrix's corporate apartments are centrally located in one of the oldest residential neighborhoods in Edmonton- Oliver. They offer comfortable, condo-style accommodations with world-class amenities and scenic views.
The complex has numerous facilities – a fitness center, a movie theater, a great room with a coffee bar, and a rooftop terrace that offers a beautiful view of Edmonton. In the comfort of your home, you will have everything you need! 
Choosing the right short-term rental will make you feel comfortable and stress-free during relocation. You deserve to feel at home always, so make your move easier and enjoy luxury accommodation.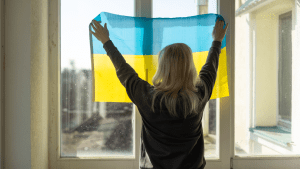 Great discount for a great cause
We stand in solidarity with the people of Ukraine. To support temporary housing for Ukrainian refugees, for every booking in Edmonton made in August for 3 months or more, we give a $500 CS credit to a Ukrainian family moving to Canada. 
Settle into a new company or a new community with ease. Take advantage of this week's discount, and save $350 each month by staying in one of our spacious furnished apartments.
Book now and explore what Edmonton offers; we will take care of everything else!