When I opened the doors of Corporate Stays for business in 2008, it was with the sole dream of providing a pleasant home away from home for travelers. More than a decade later, it gives me so much joy to look back and see how far my clients and I have come, together. As the old saying goes, "The eye cannot see itself." I solely depend on you, my trustworthy customers to fairly evaluate the work my dedicated team and I perform.
This is why, more than anything, we at Corporate Stays value what feedback you leave. I was going through the wealth of customer response our team in Montreal had managed to accrue and a few things jumped at me. To say I am over-joyed by the wave of positive feedback I saw in those emails would be putting it mildly. More than that though, I was able to spot a pattern to the feedback that I'd like to share. This is because it revealed clearly what a customer needs when they opt for corporate rental service.
Location is Key!
Even though it seems like a given, I was taken aback by the level of appreciation that was shown for the positioning of our apartments in the city. We work really hard not to sacrifice anything when it comes to providing our customers the perfect location. Each of our apartments in Montreal is perfectly, centrally situated and safe. I can't express the level of my delight when I found out that this effort doesn't go unnoticed by our clientele.
Mylène Lacroix who recently used our services had this to say;
"If you need a safe room, call Corporate Stays. Perfect and luxury condos to rent during your trips, because it's close to the city and you can go anywhere".
Homey Feeling
More than just offering you a beautiful apartment, we do what we can to ensure functionality too. It isn't enough for a rental to just meet your accommodation needs. It has to be able to cater for your personal comforts easily as well.
In addition to providing exquisitely furnished apartments in neighborhoods that are safe and friendly, we make sure that these locations are close to key areas of the city for your business and pleasure.
When we introduce Corporate Stays, we lay claim to the fact that we provide our customers with that warm, cozy feeling they naturally associate with home. Setting aside the fully equipped kitchen each apartment boasts, our staff prioritizes customer care and well-being above all else. This is why our team does everything they can to make your stay in the apartments within the city a very happy one.
From providing round the clock concierge service to supplying customers with maps to the happening spots in the city, our crew goes above and beyond to guarantee your satisfaction. More than anyone else, we understand that adjusting to life in a different city doesn't happen overnight. To improve your comfort, we provide a friendly and accommodating environment.
Erika Golem, who had to leave her home for a while (including her pets) and decided to stay with us for a season, shared her experience:
"We're now settled into our temporary corporate apartment (on the 29th floor!) That we'll be in until our house is ready. Also, all three animals arrived safely and are doing well! Now we can finally relax a bit!"
It brought me a great deal of joy, knowing that by simply doing what we do best, we were able to make someone feel that much more at home. We know how important home is, so we make sure you have all the tools you need to settle in properly.
Shannon Lehna came around a while back and left this for us in her review.
Whether you are traveling for business or pleasure, I HIGHLY recommend Corporate Stays, Which has fully equipped kitchens & in-suite laundry, fully furnished by Casa Suárez. Better than Hotels! (Twice the size for half of the price of a regular hotel room).
As you can imagine, reading this really made me smile.

Hitting the Mark
Instinctively knowing what a customer needs and supplying that demand uniquely is one of the many things that set us apart from even the best hotels. We don't wait for our valued clients to realize they have a need before doing what we can to meet it. We give the very best and are always on the lookout for ways of doing even better.
This is one reason why I was so happy to read the comments Kim Coté left us. In her words,
I always stay with Corporate Stays when I travel for business because they have the best service and the best location. You have all you need to cook and live in the apartment… Everything is so much easier with this company! Always offers you parking access inside and a beautiful view by the big windows.  In addition, there I can entertain myself a lot because the Wi-Fi connection is great and I never miss my favorite series on Netflix. And the best part? The pool's always available, so I can relax when I need it.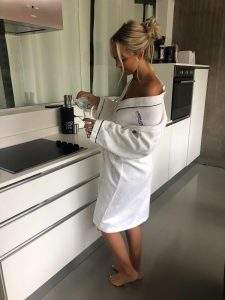 I have always believed that the clients make the company. Through listening to even more feedback, I have no doubt in my heart that we can make better fine tune our services to provide an overall unique and memorable experience for or valued customers.
Vladimir Suarez,
Founder, Fan & CEO