What is better than a normal terrace? Rooftop. Fortunately for us, there are many such rooftops of Toronto. Whether you are looking for a beautiful skyline or looking for a more comfortable and picturesque location, this city can meet your needs. There is nothing we like more than eating and drinking on these rooftops.
Cactus Club Café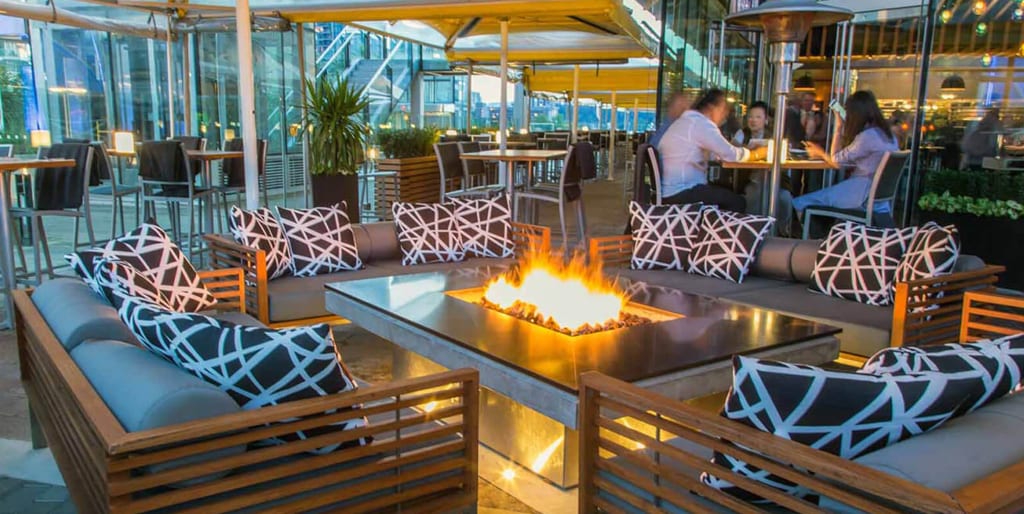 Gather around your social bubble because everything you want is here. With a live DJ and a lot of happy atmosphere. Cactus club café knows how to throw an epic party on the rooftop terrace. The views, food, menu, and atmosphere are terrific. Location: 77 Adelaide St W, Toronto
Kings Tap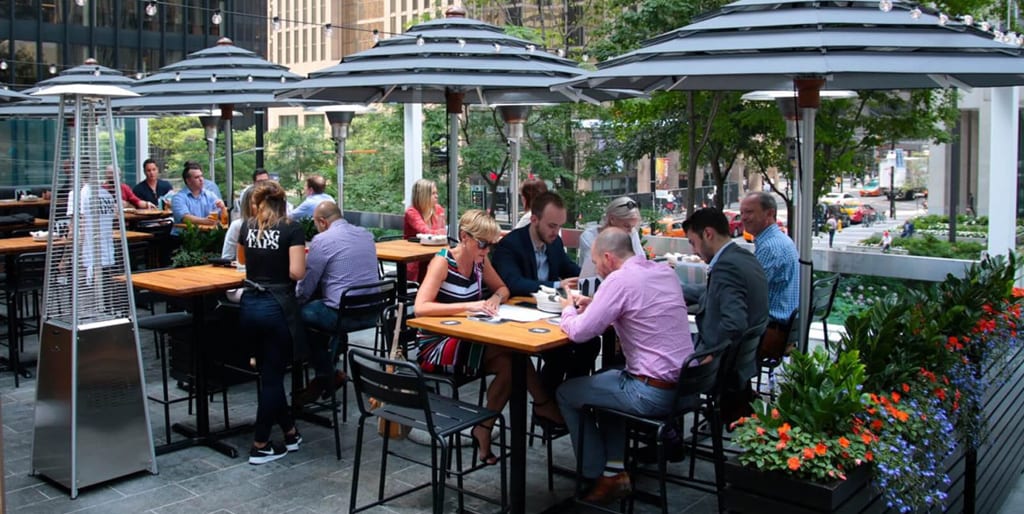 This location has not one but two terraces. The upper deck is equipped with a retractable roof. So you can enjoy happy hours even if it rains. The street-level terraces are also covered to protect terrace visitors from the rain. There are terrace bars on different terrace levels, 54 flat-screen TVs, and an open kitchen, allowing visitors to blend in with the atmosphere.
Gusto 101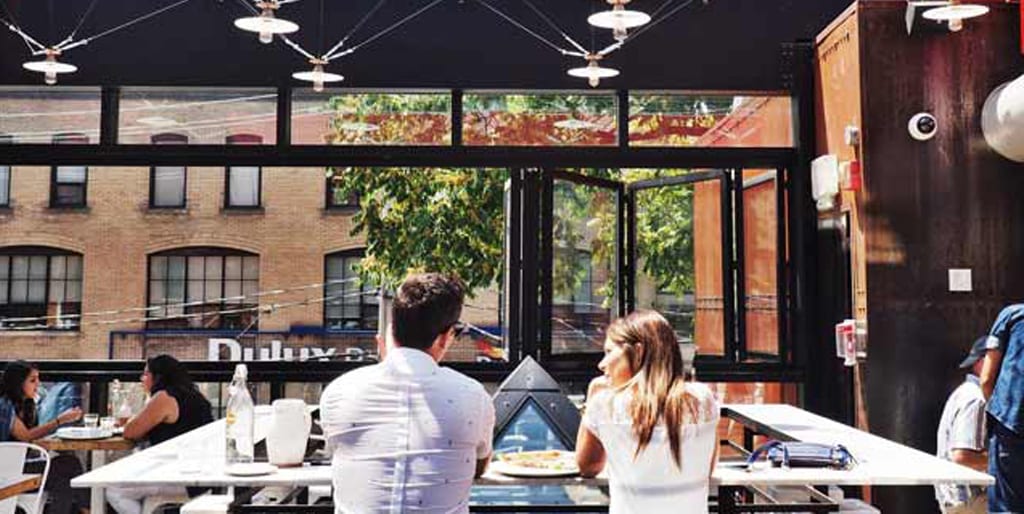 Gusto 101 is an Italian restaurant and  a rooftop bar in Toronto. Where you can find two outdoor terraces. One on the street and one on the roof. This beautiful rooftop terrace is one of the best rooftop terraces in Toronto. They also offer a super cool terrarium environment. The All Season's roof terrace has a state-of-the-art retractable glass roof.
Lavelle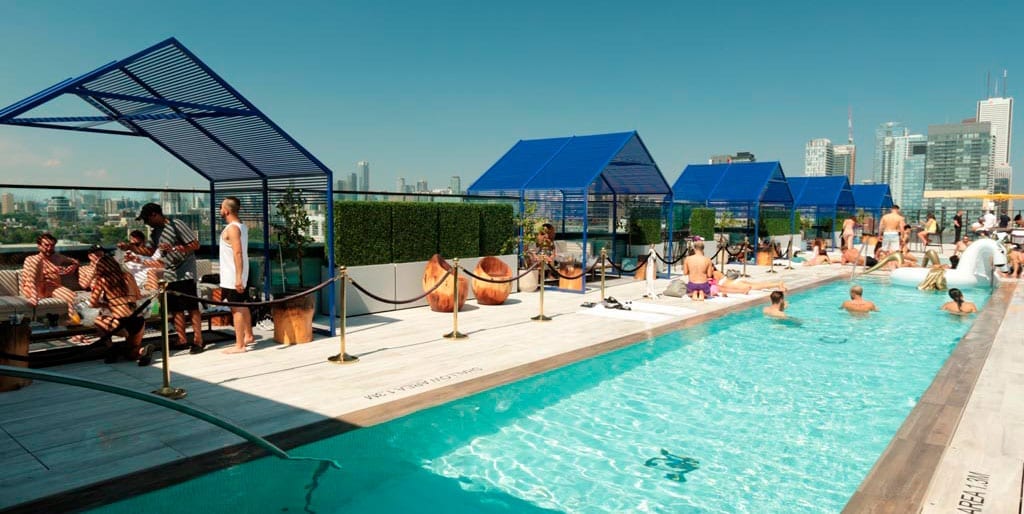 You can dine in with style on this elegant rooftop. First, it has 16 floors. Second, they have a 360 ° view of the city skyline. Oh, did we mention they even have a pool there? I think it will get better! Lavelle is famous for its cocktails. The three pools are evenly distributed along with the long central roof space of different depths, forming a seamless effect between the ground and the water.
The Drake Sky Yard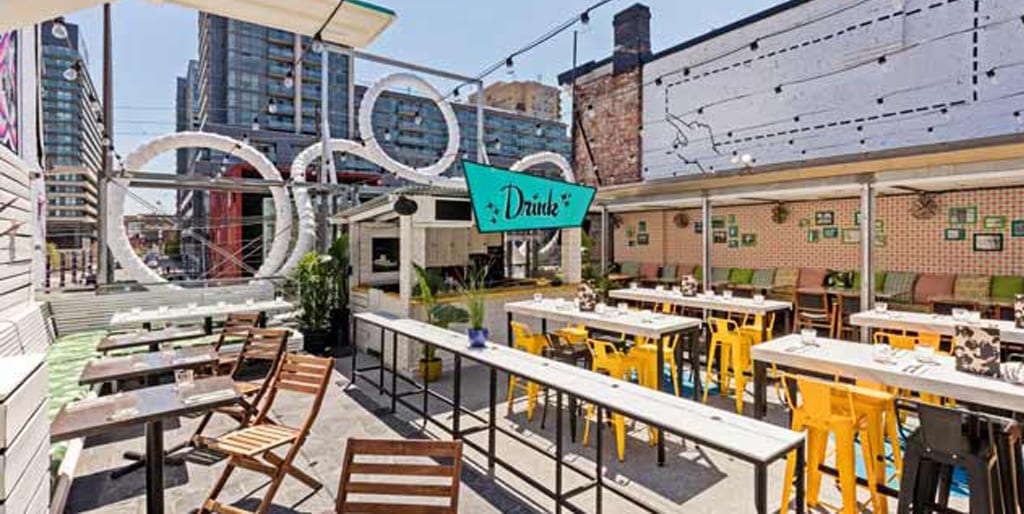 They have a beautiful rooftop terrace and delicious food and drinks. The menu shows the diversity of Toronto's culture. No matter what drinks are served, it is sure to satisfy. The entire rooftop terrace has the theme of eternal happy hours that light up the atmosphere.
The Porch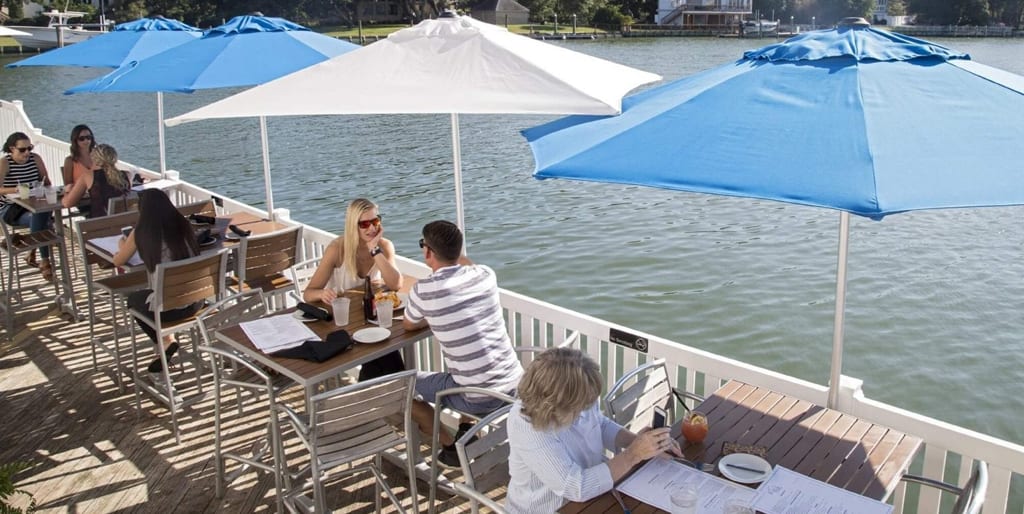 The porch has a rooftop deck, just a few blocks from the Rogers Center, with an unobstructed view of the CN Tower. It is the perfect environment to meet friends on a hot summer day, stay for a drink, and enjoy the atmosphere. The frozen margarita is a bonus too.
The One Eighty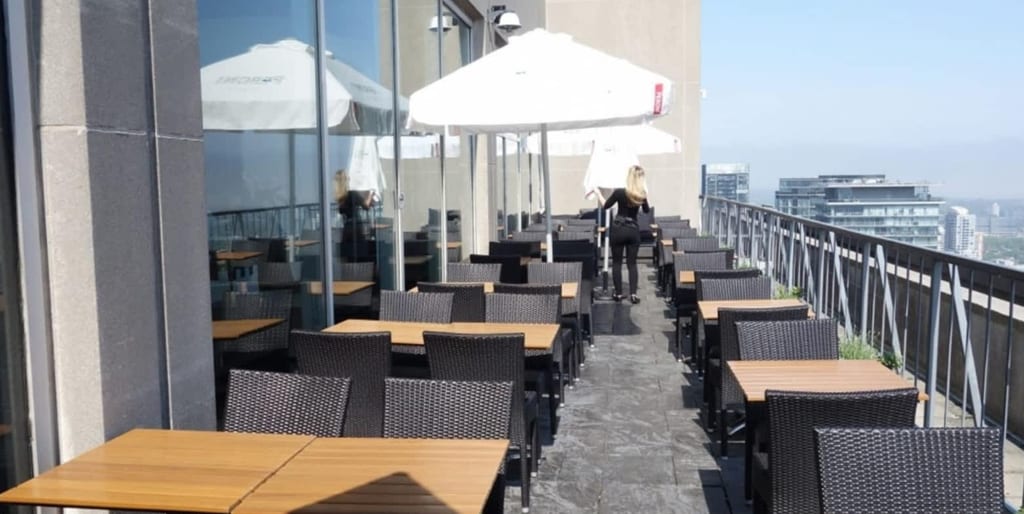 You have to climb high to get to this terrace. It is a 51-story building that offers you food and drinks on sight. You can admire the glory of Toronto on this rooftop terrace. Enjoying the view of the entire city while enjoying the food and drink of your choice is an opportunity not to be missed.
Falcon Skybar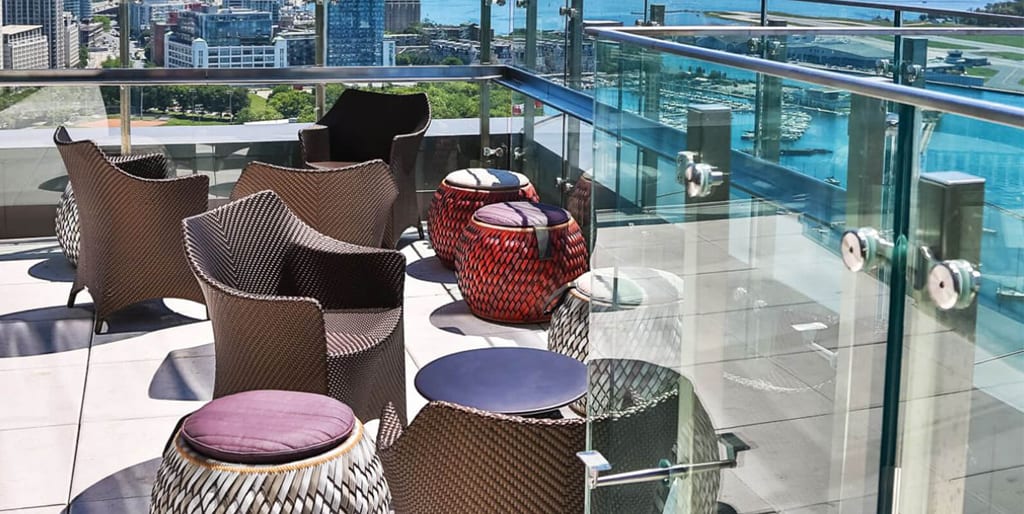 This three-story rooftop bar and lounge in Toronto offers great views of the city and Lake Ontario. There are specialty cocktails, appetizers, and shared dishes for you to enjoy while taking in the view of the city. Come and enjoy the magnificent views of Toronto and have fun in the great atmosphere of this bar and lounge. Location: 111 Princes' Blvd, Toronto
The Pilot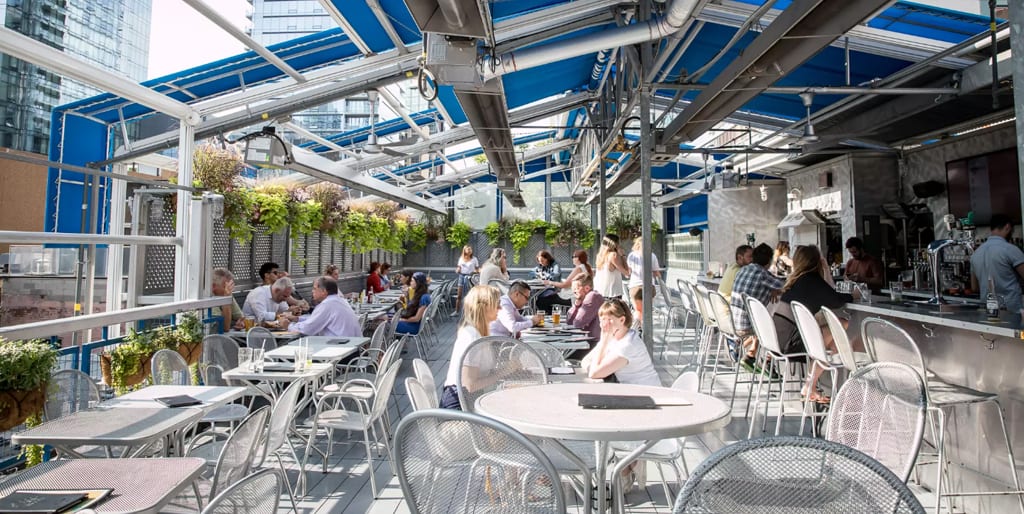 Pilot Toronto, as the name suggests, an aviation-themed bar located in the Yorkville area. You'll find a year-round Stealth Lounge on the ground floor with a seasonal flight deck on top. Simple decoration with ordinary dining table, terrace with beautiful views of the surrounding rooftops, own bar, and very good festive atmosphere.
The Chase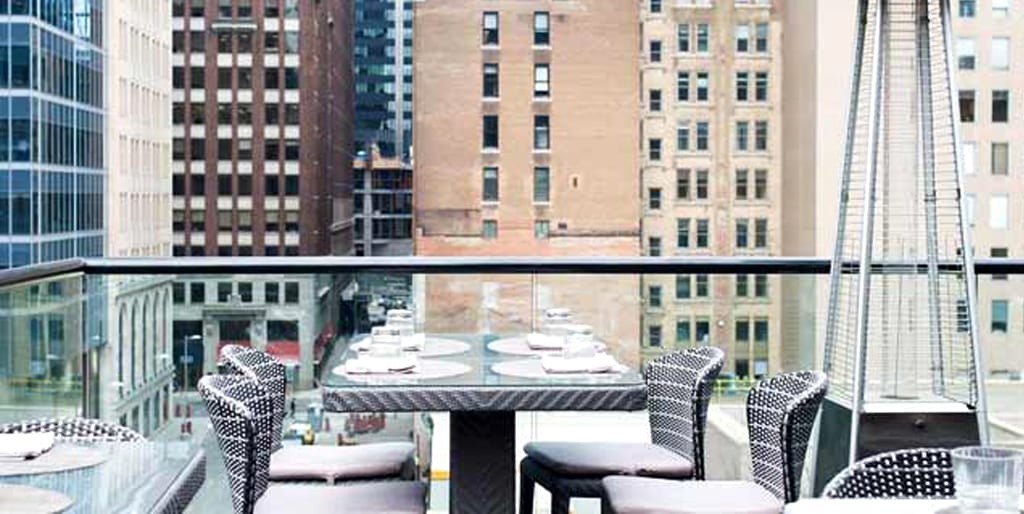 Chase is located on what used to be the roof of the building. It has a beautiful 75 seat terrace with stunning views along with a luxurious dining room with an open kitchen and indoor and outdoor bars. It is an impressive addition to the heritage structure. This spot is likely to be a destination for attentive diners in town.
Are you looking forward to visiting Toronto this summer? Find the perfect home away from homestay in the city center at these locations.
Stay With Us in Toronto!