Somerset Harmony City Wuxi
Somerset Harmony City Wuxi, Liangxi District, Wuxi City, Jiangsu Province, China
Built on the shore of Taihu Lake, Wuxi is known as the Pearl of Taihu Lake and enjoys a rich tourism resource provided by the lake. A perfect combination of modern and nature, Wuxi's popular gardens, temples, nature scenic spots, boutiques and skyscrapers have made it to one of the top tourist destinations in Yangtze River Delta.
Conveniently located in the city, Somerset Harmony City Wuxi is an ideal Wuxi hotel apartment for leisure and business travellers. The closest subway, the Min Feng Station, is a mere minutes' walk away. Ten minutes by subway will connect you to Wuxi Railway Station, and a 20-minute drive will bring you to famous tourism spots such as Chong'an Temple and the Grand Canal. The property also offers convenient access to numerous options of scenic spots, supermarkets, and entertainment outlets.
Building Facilities

Children Playground

Conference Room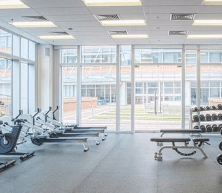 Fitness Centre

Steam Room
Video
Anything else you'd like to know?
For a complete set of policies for this home, please get in touch with one of our sales representatives.