River Gates Estate
227 Pinehouse Drive, Saskatoon, SK, Canada
This elegant Rivergate condominiums are located in the desirable Saskatoon Neighborhood of Lawson Heights. The beautifully designed suites with 9-foot ceilings are all tastefully decorated with modern pieces of art. The large living spaces, comprised of the open-concept kitchen, dining room and living room provide natural light and access to a balcony with splendid panoramic views and a barbeque. The River Gate has numerous amenities, all of which will ensure that your stay is of the utmost comfort. Notably, the heated floors, dishwasher and en-suite laundry, the flat screen television and high speed internet as well as access to the condo fitness center are sure to satisfy your every need.
Building Facilities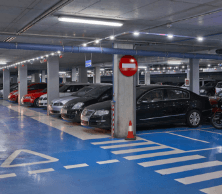 Parking
Video
Anything else you'd like to know?
For a complete set of policies for this home, please get in touch with one of our sales representatives.