Pinnacle Townhouse
120 Little Creek Road, Mississauga, ON, Canada
The Marquee Townhomes is Mississauga community where everyday comfort and convenience exist side-by-side with splendor and extravagance. Discover the visionary lifestyle at Pinnacle Uptown, a 36.5-acre master-planned community, located at Hurontario and Eglinton. A community that switches your lifestyle from hustle and bustle to luxury and comfort. A location that offers acres of fully landscaped parkland, residential diversity and local retail. A functionally delightful and charming place to call home.
Building Facilities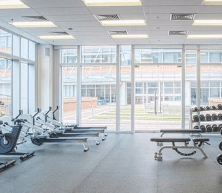 Fitness Centre

Pool
Video
Anything else you'd like to know?
For a complete set of policies for this home, please get in touch with one of our sales representatives.