Fraser Suites Hamburg, Germany
Fraser Suites, Rödingsmarkt, Hamburg, Germany
Fraser Suites Hamburg is a luxury 5 star hotel offering deluxe rooms and a variety of rooms and one-bedroom hotel suites which are situated in one of the most prestigious areas of the city. The sophistication of Neuer Wall, the energy of HafenCity (Harbour City) and the history of the UNESCO World Heritage site of Speicherstadt combine to provide a luxury accommodation experience you won't find anywhere else in the city.
When you stay with us, you will soon discover that history, culture, business and the arts are just a few steps away from our front door, allowing you to enjoy the perfect mixture of city living and unparalleled service of a luxury hotel in Hamburg.
Fraser Suites Hamburg occupies historic Oberfinanzdirektion, the former office of Hamburg's Tax Authority. A listed building dating back to 1907, its prime location is situated in the heart of the Hanseatic city and is one of the most recognisable buildings in the area due to its unique shape and lovingly preserved facade.
Building Facilities

Conference Room

Restaurant / Bar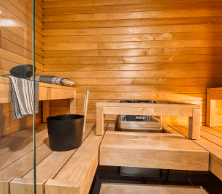 Sauna
Video
Anything else you'd like to know?
For a complete set of policies for this home, please get in touch with one of our sales representatives.