Citadines Zhuankou Wuhan
Citadines Zhuankou Wuhan, Dongfeng Avenue, Caidian District, Wuhan, Hubei, China
Strategically located within the Wuhan Economic and Technological Development Zone, Citadines Zhuankou Wuhan is conveniently surrounded by an array of important business headquarters, such as Dongfeng Peugeot Citroën Automobiles and the Xianglong Times Business Centre.
Within a mixed development complex, the serviced residence is neighboured by a selection of residential, retail and food outlets. The lobby and retail stores are located on the ground floor of block C2 and C3, while the apartments are found directly above them.
Step outside the serviced residence and find yourself immediately faced with an extensive variety of large retail complexes such as AEON Mall, Wanda Plaza and Ren Xin Mall. The MRT Dong Feng Motor Corp. The station is also located a mere minute's walk away.
Nearby, the Guiyuan Buddhist Temple is a must-see for visitors to Wuhan. Spanning over 50,000 square yards, this historical place of worship is one of the four renowned temples in Wuhan and dates back to the Qing Dynasty in 1658. Teeming with elegant courtyards and large collections of religious relics, the temple is one of Wuhan's significant cultural attractions for a reason.
The Yellow Crane Tower is another culturally important destination within Wuhan. Located by the banks of the Yangtze River, this pagoda was conceived in 223AD during the period of The Three Kingdoms, and is considered one of the Four Great Towers of China.
Building Facilities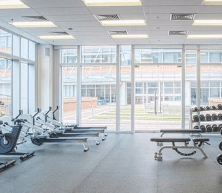 Fitness Centre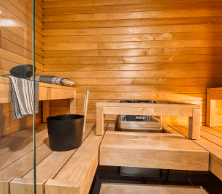 Sauna

Steam Room
Video
Anything else you'd like to know?
For a complete set of policies for this home, please get in touch with one of our sales representatives.