Capri Fraser Leipzig
Capri by Fraser Leipzig, Brühl, Leipzig, Germany
A hop, skip and jump away from the central train station, Capri by Fraser Leipzig is the ideal city centre hub for anyone visiting our beautiful city. Fall in love with the charms of our neighbourhood. Understand why modern Leipzig is one of Germany's hidden gems. Built with the curious traveller at the forefront, this centrally located hotel allows for you to relax in style whilst keeping your figure on the pulse of the city.
Building Facilities

Conference Room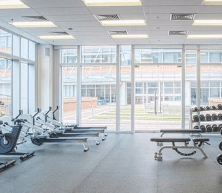 Fitness Centre
Video
Anything else you'd like to know?
For a complete set of policies for this home, please get in touch with one of our sales representatives.