Ascott Harmony City Nantong
Ascott Harmony City Nantong, Chongchuan District, Nantong, China
Ascott Harmony City Nantong is located in Chongchuan CBD. The apartment is conveniently surrounded by restaurants, entertainment, shopping, leisure and other facilities that meet your business, travel and lifestyle requirements.
Ascott Harmony City Nantong is designed to meet aesthetic demands and improve usability. With innovative spatial planning, the interior design allows for more amenities that cater to varying lifestyle needs. The property is ideal for both leisure and business travellers looking for Nantong accommodation and allows you to experience the Ascott Lifestyle.
Building Facilities

Conference Room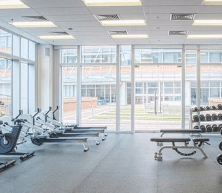 Fitness Centre
Video
Anything else you'd like to know?
For a complete set of policies for this home, please get in touch with one of our sales representatives.