It's no secret that Canada has an admirable reputation around the world. What's there not to love about this country? Most recently, Canada was recognized by Shopify CEO Tobias Lutke via Twitter.  He thinks Canada is awesome and proposes employees relocate there.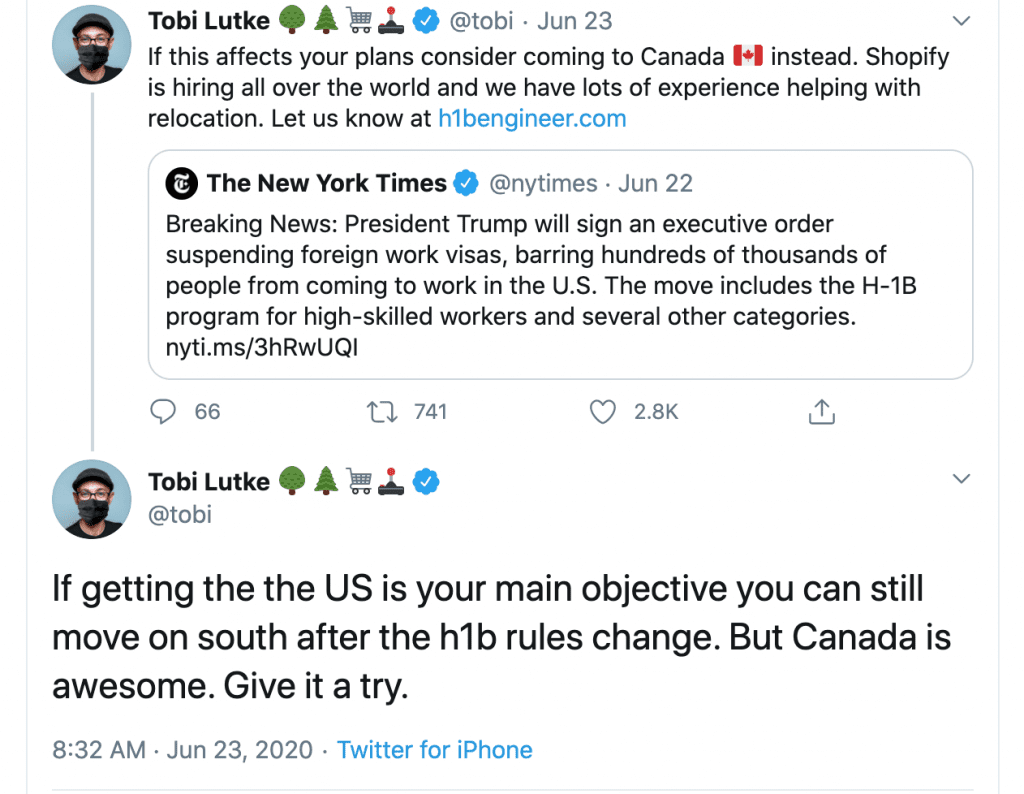 The Quality of Canadian Life
Many people were excited about Lutke's opinion. Canada has had a consistent high-immigration rate since 1988. According to Census 2016, Canadians born outside the country hit 21.9 %. Meanwhile, America only had a foreign population of 13.4%.
To add the cherry on top, Canada has been voted the # 1 Country for its quality of life and # 2 in overall ratings. No wonder Lutke shared his opinion because Canada is awesome and the numbers prove it.
Lutke's tweet promoting relocation to Canada surfaces after President Donald Trump made the decision to temporarily suspend employment-based visas. The order is said to last until the end of this year and big tech companies are not happy about it.
About Shopify
Shopify is a Canadian e-commerce company from Ottawa. It often relocates its employees and has "lots of experience" doing it, so it's not an alien subject to touch upon. After all, it's become a world-wide e-commerce platform. Over 800,000 merchants use Shopify across 175 countries in the world. Last year, over 1 billion people made their online purchases via Shopify stores. On top of that, merchants sold $14 billion worth of products in 2018.
Employees are happy
The victorious firm has a 4 star employee rating on Glassdoor.  They are also constantly adding new members to the team. Are you job-hunting around? Check out their job board and perhaps a certain position may catch your attention.
"We're astrophysicists, high school dropouts, salsa dancers, and business owners. The path to Shopify is never a straight line, but the common thread is our ability to thrive on change, operate with trust, and celebrate the diverse perspectives of our people in all that we do. This is Shopify."
Some company benefits according to Glassdoor include:
Flexible work hours
Paid vacation
Catered meals
Incredible insurance plans
Sporting gear allowance
5000 Life spending account to improve health and wellness
Need help relocating?
Sounds like a great company to work for no? Well, if you decide to take Lutke's personal advise, Corporate Stays is here to help! With over 1200 apartments in all major Canadian cities, we can find the perfect housing-solution that fits your desires and needs.
Contact us today to have your fully furnished apartment ready for when you arrive.